CONCEPT
"Dedicated to the fresh ingredients of Okinawa."
Shabu Shabu presented with a commitment to the treasure trove of unique tastes native to the island.
From local household names in meat such as Ishigaki beef and Agu pork, to our locally farmed vegetables.
We believe that our dishes made fresh together with local ingredients balance out in harmony, bringing the taste experience to its maximum level.
The interior design of our restaurant is also filled out with an entirely Okinawan sensibility.
Our staff in traditional wear are looking forward to meeting you!
• Pedigree-breed Kin Agu Pork.
Among the many breeds of Agu pork, our special selections at NAKAMA specifically hail from the town of Kin. A pedigree species that has a direct lineage traced from the original, Ryukyu native pigs.
<Unique features of the Kin Agu >
Raised on a diet of locally-produced Bunashimeji Mushrooms and Sake-Kasu also from Kin, Okinawa.
Soft and Juicy
Less of a strong odour, as compared to regular breeds of pork
Because of the high-quality composition of the pork. The Shabu Shabu soup will taste better and last longer (as compared to regular strains of pork).
• Rare-branded Ishigaki Beef
We carefully source and select each batch from local providers, and carefully prepare them to maximize deliciousness.
• Bonito Soup
Considered to be the best in the country, bonito is also indispensable to Okinawan cuisine. In terms of our preparation process for Agu pork or Ishigaki Beef, we make a golden soup of carefully selected Bonito to highlight the taste of the meat.
• Locally-sourced Island Vegetables
Unique tastes exclusive to fresh, local Okinawan vegetables such as Handama, Bitter Gourd, Oka-Wakame etc.
SEATS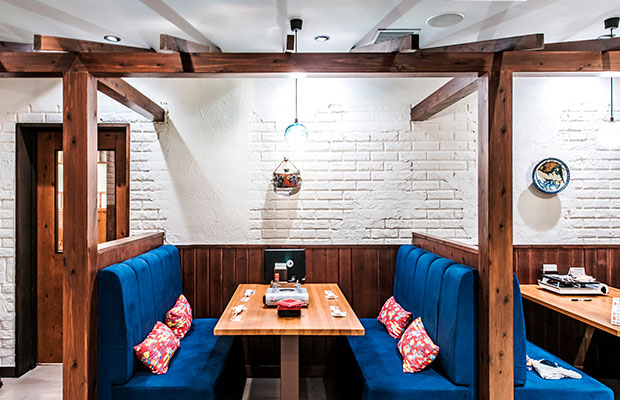 Table Seating (Box)
For 3 – 4p
A bright arrangement with pendant lighting made from Ryukyu glass. Comfortable and also out most popular option.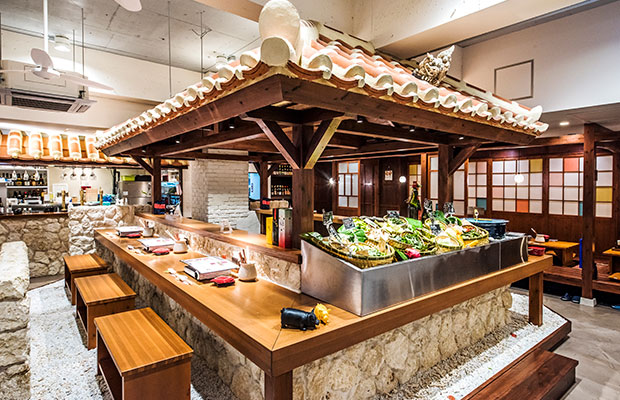 Counter Seating
For 1 – 2p
Best for couples! Feast your eyes and enjoy the live Sanshin performance.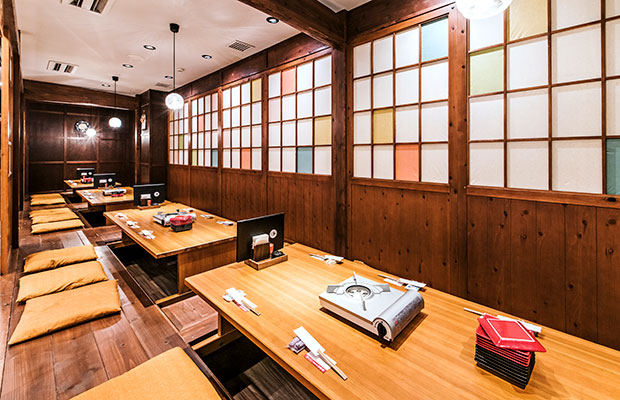 Horigotatsu Seating
For 5 – 6p
Take off your shoes, stretch out your legs and sit back and relax! Semi-private rooms also available.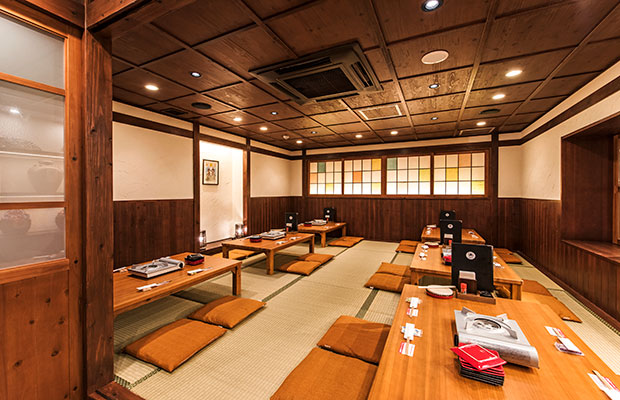 Tatami Seating
For 2 – 4 p
Good for families with small children. Kids chairs also available.We can host banquets for groups as large as 30 people.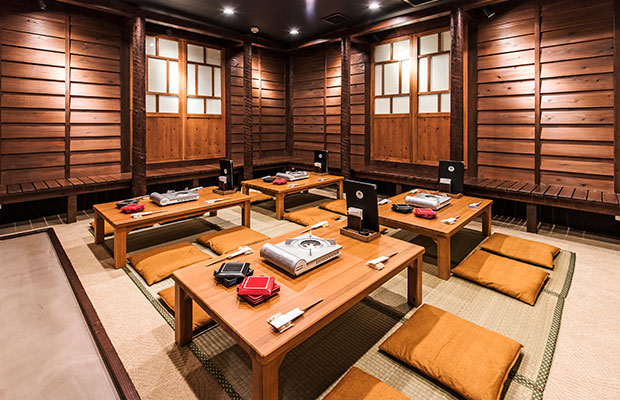 Private Tatami Room
For 10 – 16p
A completely private area made in the style of an old Ryukyu house. Perfect for entertaining and private parties.
GALLERY
Please post a pic with the hashtag '#shabushabunakama'!
This error message is only visible to WordPress admins
Error: No connected account.
Please go to the Instagram Feed settings page to connect an account.
INFORMATION
Shima ShabuShabu NAKAMA
ADDRESS:

B1 New Sun Parco Bldg. 3-3-1, Kumoji, Naha-shi, Okinawa 900-0015 Japan

ACCESS:

1 minute walk from Kokusai-Dori Kencho Kitaguchi crossing, 3 minute walk from Prefectural Office Sta.

TEL:

098-917-1529

E-MAIL:

OPEN:

Lunch 11:30AM-3:00PM (LO 2:00PM)
Dinner 5:00PM-0:00AM (LO 11:00PM)

We are open everyday.